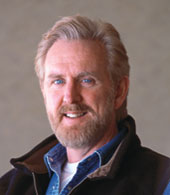 Sandy Gillis is a native Cape Bretoner now living in Prince Edward Island. After 25 years in broadcasting he retired as partner and an Operating Director of the Maritime Broadcasting System to pursue his "funny business" as comedian "Jimmy the Janitor". The jovial janitor has 11 CD'S to date, a successful nationally syndicated radio show, many comedy appearances on CBC Radio-TV and the Comedy Network, is a founding member of "Late Night Live", the Hub Cap Comedy Review, has one movie under his belt, was a principal player in the TV series "Daring and Grace" and performs at conferences and theatres in Canada and the United States.
On his more serious side, Sandy is also a former United Way Campaign Chairman, Past Chairman of the Scottish Association, a former Director of the East Coast Music Association, past Chairman of the Chamber of Commerce and past Chairman of the Friends of the Moncton Hospital Foundation. Sandy has also been the Chamber of Commerce Volunteer of the Year in 1998, 2001 and 2016.
Sandy and wife Kathy have five pretty much grown up children, and three grandchildren.